I just wanted to tell you a little about my recently finished artwork, "Tight Red Collage". I came up with idea of painting a red collage type painting after I did the "Blue Collage" which by the way I got the inspiration from looking at a children's program one morning while cleaning (for those who didn't know, you know now I have kids!). Someone recently suggested that I talk about where or how I get my inspiration when I paint or maybe talk about the history of the artwork which may be on my next blog. I do have an idea to let everyone know the meaning of the colors biblically, I used in this artwork.
The color of Red in the bible represents Adam, Flesh, Earth, Blood of Christ and Redemption, so this painting could represent Christ and His redemptive Blood, wow!. Gold represents the purity of God. White means Sanctification and Salvation. Brown, well I'm not sure what brown means, maybe earth also.
Anyway I thought the biblical meaning of these colors was interesting, so I thought I'd share it with you.
And by the way Blue represents the Righteousness of God: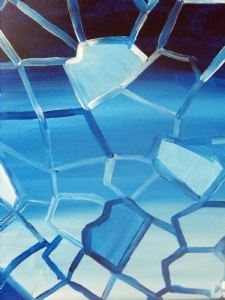 "Blue collage"
Please let me know your comments on this blog, good or bad and I'm open for suggestions.
Blessings,
Denise